Karla Kosmač received the silver innovation award
At the 16th Innovation Day, the Chamber of Commerce and Industry of Slovenia has presented the most innovative companies and innovators in companies and public research institutions with national innovation awards. The Chamber of Commerce and Industry of Slovenia award for the best innovation at the national level is the highest award given for innovative achievements of Slovenian companies.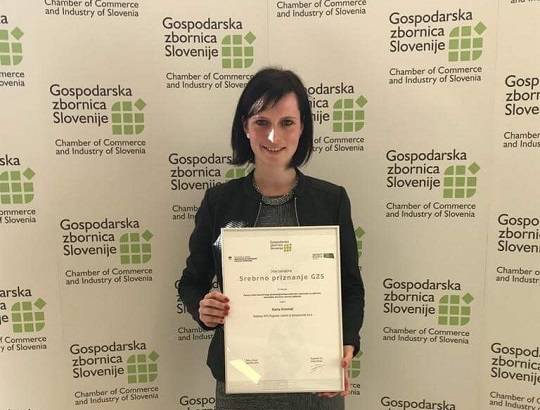 ​10 gold awards, 1 special award, 28 silver awards and 3 special awards for potential circular economy innovation is the result of the national finals where 197 innovations and 772 innovators participated at the regional level. Karla Kosmač from Kolektor KFG received the silver award for her innovation "Development of highly coercive plastic-bonded magnetic material with the properties for demanding, technologically perfect rotor applications".

"This award is another proof that we are moving in the right direction in terms of our work and our mindset. In the first place, I have to thank the entire extrusion team in Kolektor KFH for our great collaboration, the result of which is this award. Furthermore, various development activities would not be possible without the full support by Andrej Brložnik, our Managing Director," said Karla Kosmač.
Back