We support the entrepreneurial spirit among young people
11. 05. 2023
At Kolektor, we are aware of the importance of contributing to the development and growth of the entrepreneurial spirit among young people and encouraging them to realize their innovative ideas. Therefore, we are pleased to support Junior Achievement Slovenia, an institute dedicated to training young entrepreneurs. We are proud of the students from Idrija, also our scholarship recipients, who achieved first place in the national competition "Moje podjetje" (My Company).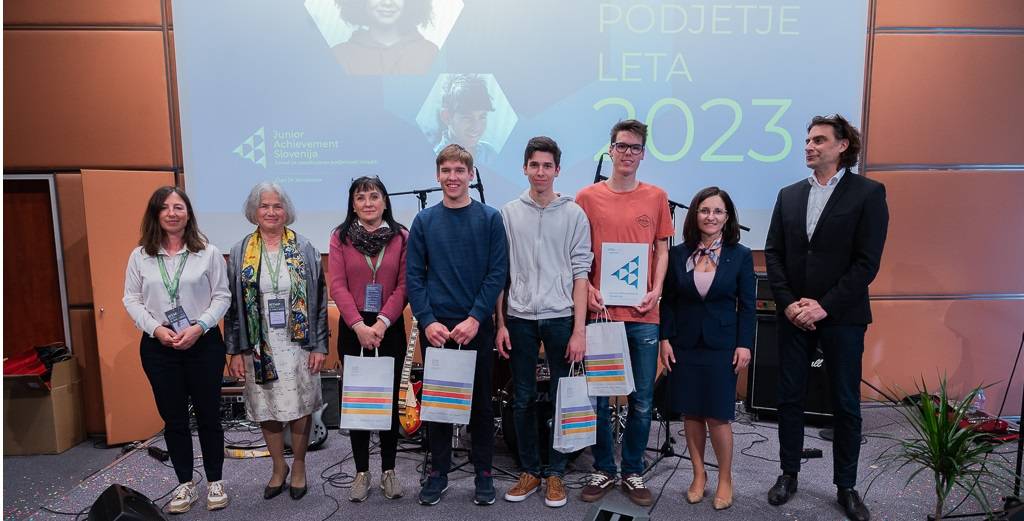 The winners of this year's competition
Junior Achievement Slovenia is a non-profit organization that is part of the international organization Junior Achievement Worldwide. They implement the "Moje podjetje" program, through which high school students, under the guidance of teachers and external mentors, learn about the functioning of a company. They face the real production, marketing, and sales challenges, all while building values of responsibility and learning through their own experience.
This year, the 10th Junior Achievement national competition of the "Moje podjetje" program took place at the Chamber of Commerce and Industry of Slovenia. Twenty-five top student companies presented themselves, impressing the jury with a 3-minute pitch and booth setup.
First place for the company of the year and the ticket to the European competition GEN-E 2023 was awarded to the company SHREDDER TEAM d.d., led by Miha Smrdelj, Jan Razpet, Andrej Rojc and Jernej Kavčič, students of the 4th year of the mechanical engineering program at the Gimnazija Jurija Vege Grammar School in Idrija, under the mentorship of Professor Tanja Pirih.
Shredder Team d.d. manufactures mills for grinding waste plastic packaging. Their product, named "PLASTOŽER" (Plastic Eater), solves the problem of the volume of mixed waste packaging. It grinds waste packaging from bottles, plastic cups, tetra packs, cans, and caps, reducing the volume by 90%. It also reduces energy consumption and CO2 emissions, as this process eliminates one stage of bottle recycling, obtaining a raw material instead of waste. 
Of all the participants, "Plastožer" was the most convincing for the 35-member jury. This year, 30 schools, 56 teachers, and 650 students participated in the competition, who formed 135 student companies, with 75 of them applying to the national competition of "Moje podjetje." Selections were made regionally in Ljubljana, Koper, Celje, and Škofja Loka. Finalists were chosen in each regional selection according to the participation rate of each location.
We congratulate the winners and believe that young entrepreneurs are the driving force behind economic progress and positive change in the world. Their passion, vision, and courage inspire us and encourage us to continually seek new ways to support their success.
Back