Tomaž Kmecl, Managing Director of Kolektor Etra this year`s recipient of the economic Oscar
07. 03. 2017
For the 49th time, the Chamber of Commerce of Slovenia presented awards for outstanding business and entrepreneurial achievements. This year there were 6 winners of the award, they come from five Slovenian regions and represent four different branches. This year's recipient of the Slovenian Economic Oscar, the oldest and most prestigious domestic award is also dr. Tomaž Kmecl, Managing Director of Kolektor Etra.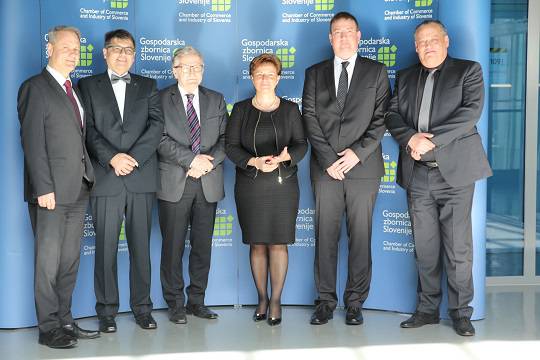 In assessing their achievements, the commission chaired by Janez Škrabec from Riko considered 69 different criteria, from marketing, development and export results of the company to the operating results and market uptake. The commission assessed the capability of responding rapidly and effectively to changing business conditions, long-term strategy of investment in development and innovation, and responsibility to the social environment.
Kolektor Etra is characterized by excellent business results; average revenue growth on foreign markets is 14 percent, one third higher is the value of the value added per employee, compared with the industry, earnings growth and return on equity targets confirm the development strategy of the company in the development, investment and sales.
"In my opinion, a successful company will invest heavily in development and will succeed in selling its products, including the expensive ones, to pretentious, wealthy buyers. The second condition is adequate ownership structure. I do not believe in financial instruments, which may apply in the short term. In the long-run, what's important are strategists. Furthermore, we must do our best in building the inner strength of companies and a winning mentality, "said Tomaž Kmecl at the presentation of the winners, and added that being a manager does not mean being automatically awarded for a position, it is all about the work and responsibility, and the need to divide gain between all parties involved in its creation. He pointed out the care of the company for its employees: among other things, Etra's people are offered an unlimited quantity of fruit in the workplace, and all employees are well above standard insurance - that is they have direct access to private health care services.
Back