The project for the amelioration of the drinking water quality in the municipality of Slovenj Gradec can start
17. 06. 2021
The ceremony at the occasion of the signature of the contract presented, at the same time, the commencement of the contractual works, comprising the drinking water treatment at the water catchment and its distribution within the water supply network of the municipality of Slovenj Gradec. The project, whose value is over four millions of EUR, is co-financed in the amount of three millions by the national and by the European financial funds.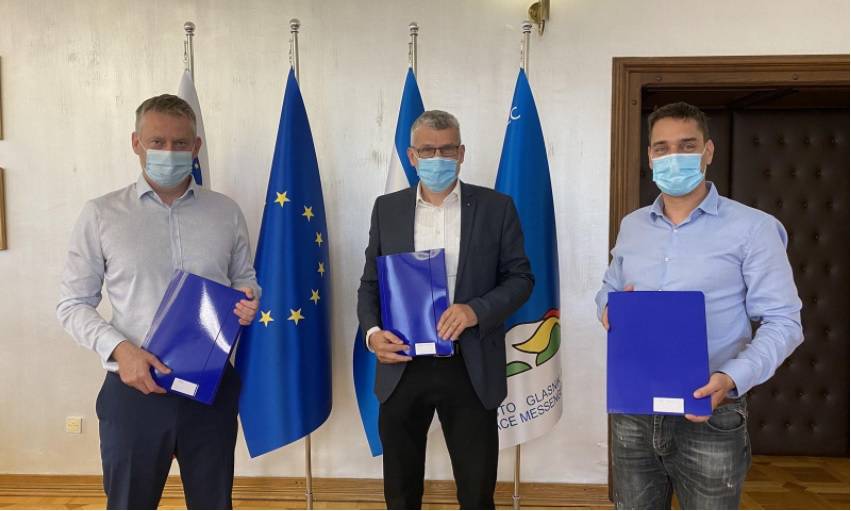 Source: Municipality of Slovenj Gradec
The consortium of companies Kolektor Sisteh and IVC was awarded the contract for the implementation of this project at the public works award procedure.  The date, foreseen for the commencement of works, is July 1, 2021, and the date of the completion of works is set for June 2023.
The project will provide a quality and sufficient quantity of drinking water for all the inhabitants in the water supply system of Slovenj Gradec - Suhi Dol. The project task is to complete the construction of 10.5 kilometers of the missing water supply systems in the areas of Mrakov hrib, Gmajna, Legenska planota, and Brda, thus connecting additional 457 inhabitants to the network. Beside this, the construction of the water supply system Suhi dol - Mislinjska Dobrava will enable the connection of the additional 518 inhabitants to the system.  The project also comprises the construction of a drinking water treatment plant at the water source of Suhi Dol, as well as additional three pumping stations and a water reservoir.
The drinking water treatment system will be based on the reliable removal of suspended solids and particles (and thus also the micro-organisms as bacteria, viruses, parasites, etc.) from the water by applying the process of membrane ultrafiltration. The membrane filtration provides a constant faultless condition of water since the saturation of membranes only reduces their permeability and not their capability of removing the unwanted substances. Thus, we can assure a constant, controlled water quality, which cannot be achieved by conventional technologies.
Back