Opening of the Slovenian Consulate in South Korea and appointment of a new Honorary Consul for Slovenia
19. 04. 2019
South Korea, population 50 million, is – from the economy point of view - one of the most dynamic countries in the world. It is place 11 of the strongest economic powers in the world and in place 4 of the strongest economic powers in Asia. Trade exchange between Slovenia and South Korea is growing every year thus South Korea is becoming an increasingly important economic partner for our country. Recently, a consulate has been established and a honorary consul of Slovenia to Korea has been appointed in Seoul.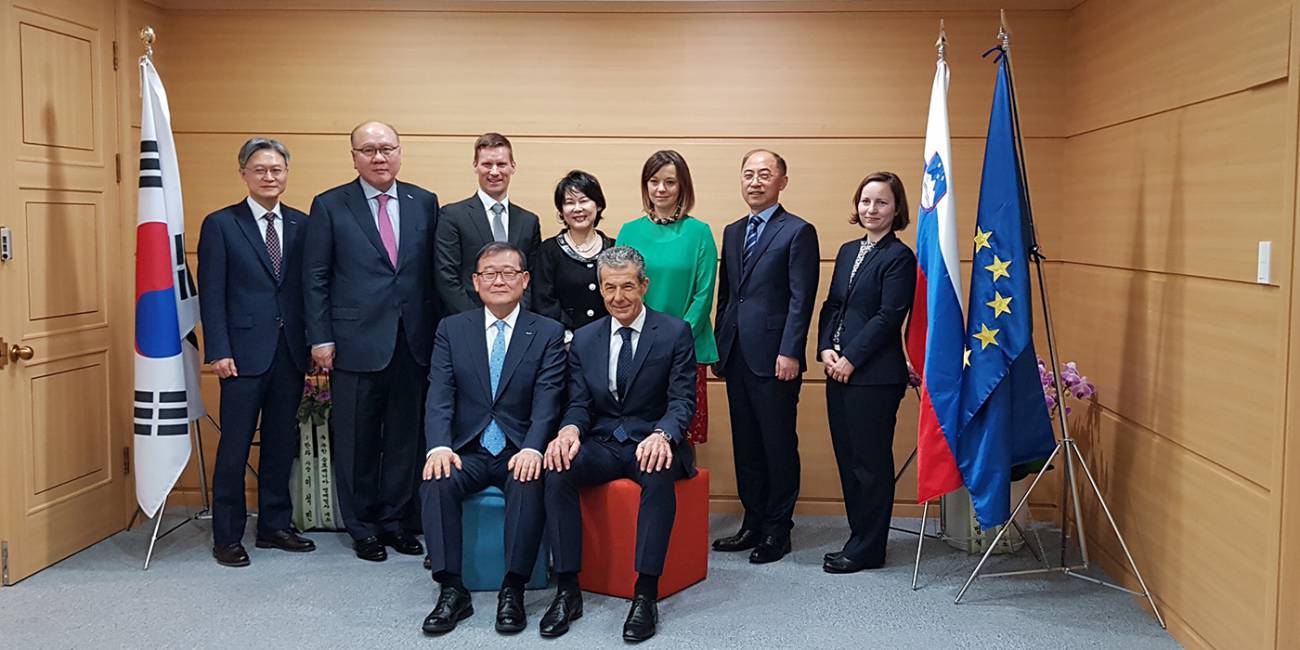 Mr. Chung Mong-won, the president of Korean corporations Hall and Mando took over the post of the Honorary Consul of Slovenia in South Korea. He is a successful and internationally renowned businessman managing two highly successful corporations. Mando is the world's largest global manufacturer of automotive systems and Tier 1 supplier to automotive giants.  Beside the automotive, the Hall group is engaged in industries such as construction, distribution, investment, education, etc. Right there, at the headquarters of the Hall Corporation, the consulate has been opened.
The new Honorary Consul of Slovenia in Korea, Mr. Chung Mong-won, said upon his appointment: "I am proud that I was appointed Honorary Consul of the Republic of Slovenia in the Republic of Korea, and solemnly promise that I will do my best to contribute to the improving of the current bilateral relations. Moreover, I will strive to strengthen the economic cooperation and exchange between people, especially in the field of tourism."
Mr. Stojan Petrič, the Honorary Consul of Korea in Slovenia, added: "I am pleased that Mr. Chung has become the Honorary Consul of the Republic of Slovenia in Korea. I believe there are many common business goals we can fulfill as successful businessmen in favor of both Slovenia and Korea. Thanks go to Slovenia's diplomacy, which helped us realize our common idea at the last Winter Olympics in Pyongyang. The first contacts were established at a friendly hockey meeting between the national teams of Slovenia and South Korea in February 2018."
Mrs. Simona Leskovar, State Secretary at the Ministry of Foreign Affairs exclaimed: "I am pleased that with the opening of the Consulate of the Republic of Slovenia in Seoul, diplomacy is able to connect sports with the economy and implements the ambitions drawn out in the Slovenian House at the Winter Olympics in Pyongyang in February last year. Slovenia and South Korea have many so far unused business potentials and, in the absence of resident embassies in both countries, honorary consuls coming from the field of economy definitely create a great opportunity for realization of said ambitions."
Collaboration between the two countries resp. between the two Honorary Consuls will primarily take place in the business field. It is a weaving of great synergies between the two corporations, Mando on one hand and Kolektor on the other, since Mando applies many components manufactured by companies in Kolektor.
Back