Kolektor praised for cooperation with the Association of the blind and visually impaired of Nova Gorica
06. 11. 2018
The Inter-municipal association of the blind and visually impaired of Nova Gorica celebrated its 70th anniversary. On this important jubilee, Mr. Igor Miljavec, president of the association, presented important milestones in the continuous 70-year operation. He thanked Kolektor for successful cooperation, support and selfless help in achieving of the associations`s goals.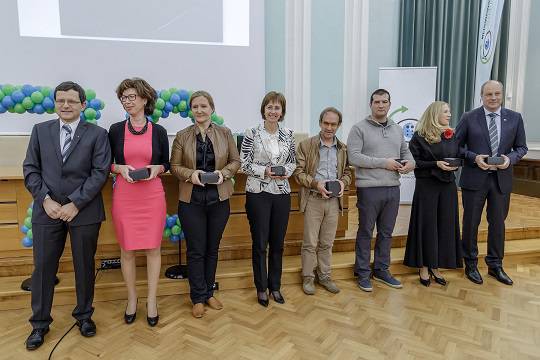 The mission of the association with its 230 members has been to bring a ray of light, optimism and hope into the lives of individuals confronted with blindness or those who are visually impaired. It has pointed out the obstacles and challenges blind and visually impaired people face in their everyday life. Over the past decade, and in cooperation with the local police department, the association has organized several workshops to ensure security for vulnerable people, and the program has evolved into a state project.  The blind and visually impaired individuals were taught to use a computer and a smartphone.

The association place great emphasis on the rehabilitation of the blind and visually impaired in their home environment, and further praise exemplary partnership with local communities and the economy in the Severna Primorska region. Kolektor is aware of the importance of social responsibility and responds to the needs and requests of local societies and cooperates with them in various ways, both with financial support and other forms of cooperation that result in mutual benefits.

Kolektor wishes the association further successful operation and effective support for its members.
Back