Kolektor participating in the Motek fair in Stuttgart
11. 10. 2016
The international fair MOTEK is the world's leading event in the fields of production and assembly automation, feed technology and material flow. Motek is the only trade fair to focus on all aspects of mechanical engineering and automation and on the presentation of entire process chains. Kolektor Orodjarna with its business units Automation and Machine construction and Vision are among the exhibitors at the fair.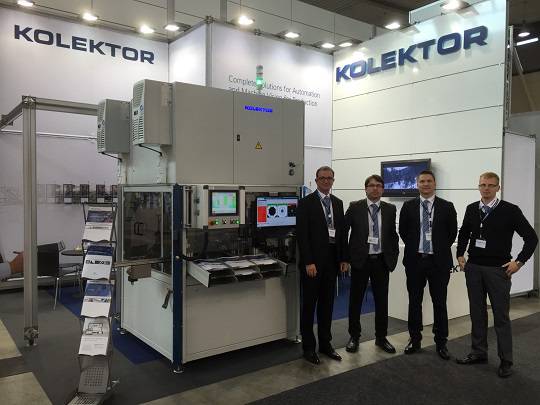 It presents itself with the machine for optical inspection of commutators JOŽA-6, which is used for simple and complex dimensional measurements, inspection of the presence of residues and impurities, surface inspection etc. They presented also a demo application that sends product measurement data in the web. User can use his/her mobile device (pad, phone etc.) to access statistical data in real time and thus control the machine. This demo application is a solution developed in the scope of Industry 4.0 in collaboration between Kolektor Orodjarna and Kolektor Sisteh, and it has attracted great interest among the visitors of the fair.

You are welcome to visit us at our stand No. 5-5202.
Back