Among the greatest at the CWIEME fair in Berlin
12. 05. 2016
The 21st CWIEME fair is taking place in Berlin where the newest trends in the development and production of materials, components and systems for electric motors are presented. Kolektor presents its products and solutions among more than 750 exhibitors from all over the world.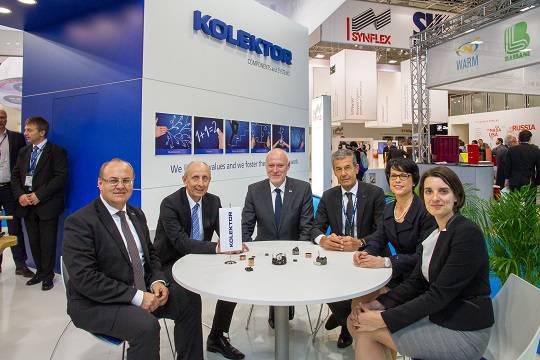 Kolektor presents itself with a wide range of components and subsystems. Innovations and state-of-the-art technologies enable us to play an active role in creating global technological trends in the development of commutators, special slip rings, magnetic components and plastic hybrid components. We complement these programs with drive systems and key components for brushless motors (rotors, stators, sensors), thus providing our customers with a full range of services as a strategic development partner in the automotive suppliers chain.

According to Radovan Bolko, President of the Board of Management of Kolektor, electrical industry is a fast-growing sector as it is connected to motors: "Kolektor is well positioned in this industry; in terms of commutators, we are the technological leader and the world's largest producer, we are on a good way to acquire the same position also with the magnetic components, while we try to become one of the top three producers of hybrid components in Europe."

We believe that our participation at the fair that ends today was very successful.
Back